Singer-songwriter
STEPHANIE DAVIS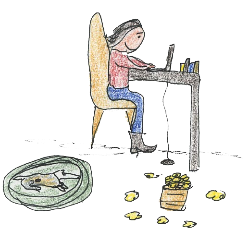 Stephanie Davis is passionate about songs and stories, and their amazing ability to heal, inspire, and connect us all. Growing up in rural Montana, her own songs and stories frequently draw from her deep love of animals and nature, often with a dose of dry Western humor thrown in.
Stephanie's songs have been recorded by many artists, including Garth Brooks, Trisha Yearwood, Joey + Rory, and others. She has written and toured with Garth, was a frequent guest on Garrison Keillor's "A Prairie
Home Companion" show, and continues to perform at various songwriter festivals and cowboy poetry gatherings.
These days, Stephanie lives near Austin, TX, with her husband, two cats, and an assortment of wildlife. She happily writes and records from her home studio.